THANKS FOR COMING!
"HERE'S TO A NU YOU!"
Have you ever heard of a rose growing through concrete?
Think about it for a second... Would you consider yourself one?
Maybe you should. Think back to those times you "got lucky." Maybe that wasn't luck.
WHAT YOU SEE IS DETERMINED BY WHAT YOU'RE LOOKING AT...
If you're not seeing the "New You" that I'm toasting to, then you're possibly still looking at the "old" you.
This means that you're probably still seeing the weeds from your past mistakes, and that can block the light that you need for norishment as you grow into the NU you.
When planted in fertile soil, most seeds open to meet the heat from sunlight, but some need fire to open up.
Here, this is a NU flame that I brought to purify the ground, blaze a trail, and clear the way for your NU growth.
#BloomWhereYouArePlanted #MakeRoomForTheNU #ThisIsNepalm
N.E.P.A.L.M. Unlimited, Incorporated
(Natural Energy Present Always Living & Moving)
SIGN UP TODAY & IF YOU HAVE ANY QUESTIONS, BE SURE TO EMAIL: info@we.let.itgo.com
Right now, we are searching for talented, ambitious, and competitive people who want to become qualified to help us expand this business model with Unlimited Potential!
If you have what it takes, this could be the opportunity you have been looking for! There's a shortage of talent who are willing to work and that means the field is wide open!!
You have access to an untapped market, talk to your followers & subscribers, it's time to #TapIN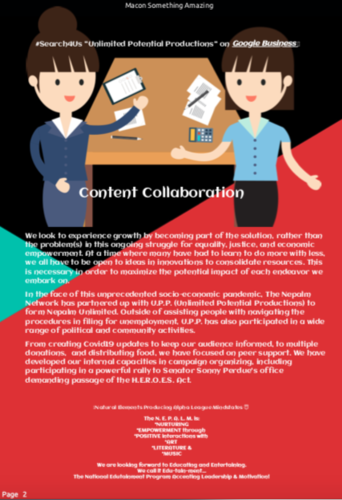 Tap on picture to post a review to our Google Business Profile👆🏾 #WeAreUpp @UnlimitedPotentialProductions 🎬 We would love your feedback!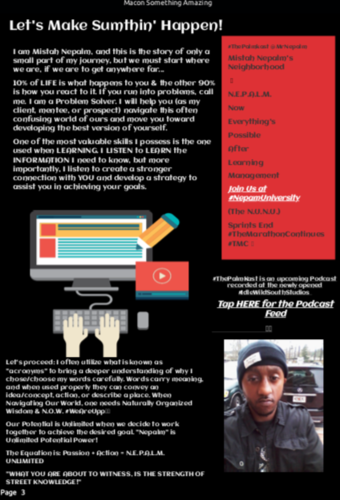 I am building N.E.P.A.L.M. as Brand and #ThePalmkast a Podcast 👆🏾 I am also available for lectures, workshops and media interviews for a nominal fee, of course...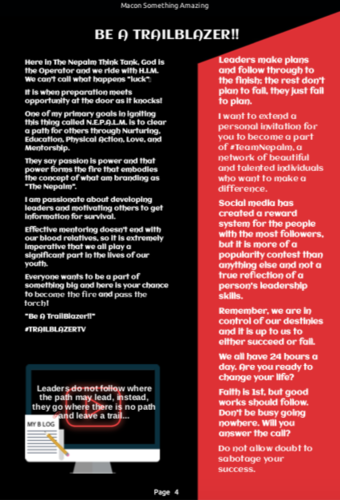 Do you believe in destiny? I do. Do you know what Destiny is? It is defined as, events that will necessarily happen to a particular person or people in the future. Do you want the freedom to control your own destiny? TAP IN👆🏾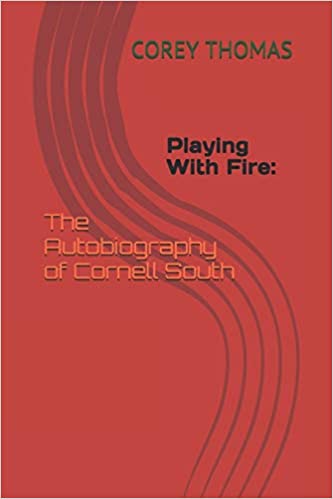 My Passion is the fuel that ignites the fire that is Nepalm. I didn't choose this life, it chose me. It seems that I am built for it! I can do this all day. TAP ON PICTURE TO PURCHASE #PLAYINGWITHFIRE THROUGH PAYPAL 👆🏾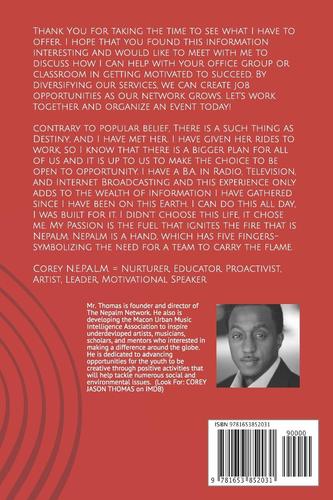 Nepalm is a hand, which has five fingers-symbolizing the need for the individual fingers to work as a team to carry a torch. For more Backstory Tap In 👆🏾
Corey's Urgent C.A.R.E. (Coach, Author, Realist, Educator) I have a Bachelor of Arts in Communication, and this experience only adds to the wealth of information I have gathered since I have been on this Earth. If you want to connect on Facebook #TapIn 👆🏾
LAST, BUT DEFINITELY NOT LEAST: WHAT ARE YOU EXPECTING OUT OF LIFE? DO YOU NEED SOME MUSICAL MOTIVATION? TAP IN 👆🏾TO HEAR THE ALBUM ON BANDCAMP 🎧